Assassins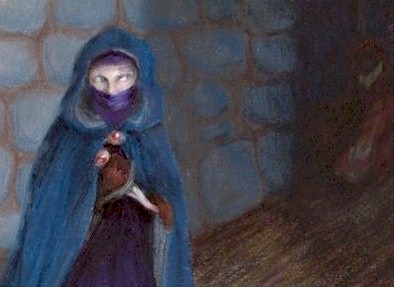 Assassins are professional killers, relying on stealth, cunning, skill, and treachery to destroy their quarry. They are callous murderers, driven only by the desire to excel at their art.
Characteristics: The main weapon of an assassin is surprise; their subtle, stealthy skills require a great deal of agility. Assassins are uninterested in higher learning, but instead harden their bodies against the violent encounters that are so common in the underworld.
Assassins are more geared towards player-killing than any other class in the game. They are better fighters than thieves, and with patience and planning, can take out much stronger beings than themselves. A character that is an assassin can quickly become a legend among the gossip channels. Secrecy, patience, and stealth are the weapon of the assassin. Since players' blood often ends up on an assassin's dagger sooner or later, it is very important that anyone who chooses this class be familiar with the RULES of the game.
Role Playing Suggestions:
An assassin could be a character that has a vendetta against one person or even race.
Taunted and teased as a child, this would be a profession for someone who society didn't accept.
A nobleman who takes care of 'political' issues could be a refreshing change to the typical "dark figure" of an assassin.
Several of the skills that are available are:
Backstab
Track
Disable Traps
Dual Wield

The rankings of an assassin are:
Slanderer
Assailant
Backbiter
Cut-throat
Betrayer
Saboteur
Head Hunter
Executioner
Royal Assassin
Reaper
Classes
Home